| | |
| --- | --- |
| | WHAT IS A SECURITY SYSTEM |
CUSTOMER LOGIN:


CONTACT

Red Alert Inc.






WHAT IS A SECURITY SYSTEM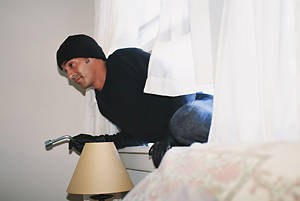 It's a fact - many burglars are scared off by just the presence of a security system. Burglars attack unprotected homes up to 3 times more often than homes with an electronic security system.

Maybe you're ready to invest in a home security system. But, just what is a "good" system?

Well, it's not one that's bought in a panic hours after your home has been ransacked.

A good standard system protects the entire perimeter of (around) your home. It alerts you and lets the intruder know he's been detected. It limits damage and it brings help. And, it's easy to use.

Basic elements of a standard system include: a control panel , a siren, an inside motion detector, door and window contacts. And, it should be linked to a central monitoring station for around the clock coverage.

The best home security system will be a system customized to how you live your life. It takes into account your schedule, your kids and pets, if you have any. And, whether it's jewelry, baseball cards or a wine cellar, the things you value the most will be specifically protected. You may also wish to include fire detection or medical emergency devices in your system.

The final step is for the professional installer to thoroughly teach you and your family in the proper use of your system, including changing access codes and preventing false alarms.

Here are some of the components in home security systems:

Magnetic contacts: They form an electrical circuit between a door and the door frame or a window and a sill. When the door is opened, it breaks the circuit and sounds the alarm.

Motion Detectors: Sound an alarm if motion is detected.

Wired window or door screens: The security system is activated if the wire is cut or the screen is removed.

Panic buttons: Can be located next to beds or alongside doorways or wireless. They can be manually activated if you suspect an intruder, or if an intruder tries to force entry.

Closed-circuit TV: A private television system that lets you monitor one or more inside or outside areas.

Key Pad: Also known as touch pads or remotes. These devices allow you to turn on and off (arm and disarm) your system. It also displays the system status.

Wired system: Uses concealed or exposed wiring to connect the home security system's components.

Wireless system: Uses radio frequencies to connect system components.

Other components: Glass Break detectors and stress sensors.

Not every home needs all of the above. Consult with a licensed alarm installer to assess your home's specific needs.